Joshua Tree National Park is like no other place on earth, with its signature Joshua trees, giant boulders, and surrounding mountains that create an almost surreal landscape and make you feel like you have entered another world. Camping here is nothing less than spectacular, with scenic campgrounds spread around massive rock formations and sites just perfect for pitching a tent or setting up an RV.
JOSHUA TREE NATIONAL PARK CAMPGROUNDS
Know that Hidden Valley, Ryan, Jumbo Rocks, White Tank and Bell campgrounds are 1st come 1st served and fill up quickly on the week ends and during peak season dates….Hidden Valley, Ryan, and Bell are our personal favorites….Remember there are no services or running water in the park, so come prepared!Hidden Valley and Ryan are primarily climber campgrounds. If all sites are full bring fire wood and beer, offer to share and pay fees…Most climbers are pretty cool! VISIT SITE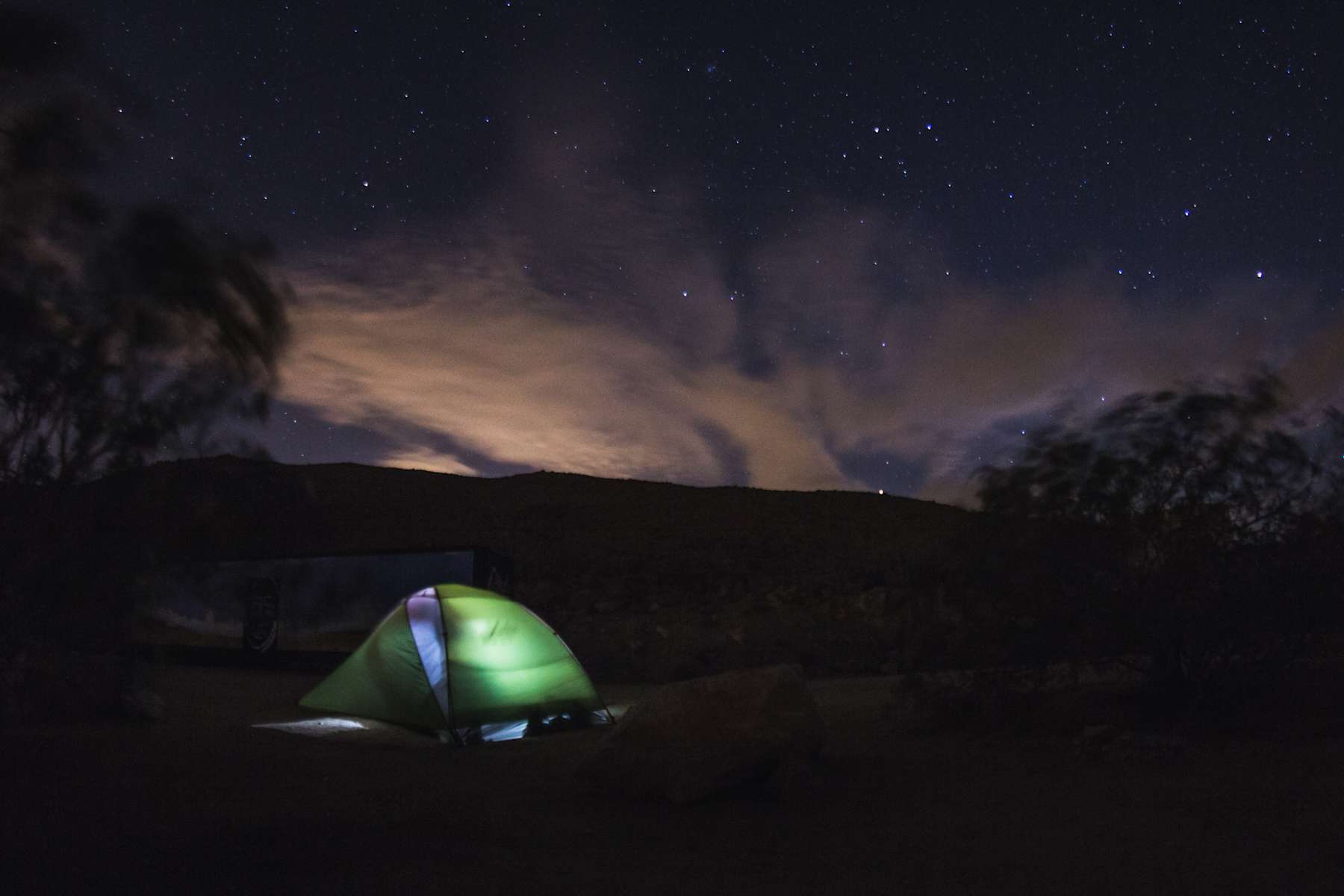 Camping outside the park Developed and Private
This is owned and manged by good friends of ours. Beautiful location roughly 10 miles from the JTNP visitor center, highly recommended! VISIT SITE
Locally owned and operated long before Sabra and I landed on the scene…Home of the Joshua Tree music Fest, surrounded by BLM land. Zero dirt roads to access. Old school RV and tent camping, but well done with fishing lake! VISIT SITE
UNDEVELOPED BLM LAND
"This land is your land, this land is my land, from California to the New York islands"…..Your public lands, 21 day camping limit…Land of freedom, dirt bikes and guns, not to say these are bad thing, just know what you are getting into…No services. We recommend camping on the east side of the lake bed…Drive north off of HWY 62 on Sunburst rd. Once the houses peter out on your right (east), start looking to head in and make your self at home. We do not recommend leaving a campsite up here while you are in the Park or elsewhere.
Coyote Lake Bed and Copper Mountain